Manchester Development Event with Heather Baker
March 17 @ 6:00 pm

-

8:30 pm

Free – £20.00
Join our Manchester development event – we cannot wait to introduce you to our international PA trainer and speaker Heather Baker.
Join us for some friendly PA networking over drinks and canapes at Native Manchester – Ducie Street Warehouse, followed by the fantastic international PA trainer, author and speaker Heather Baker talking about Benefit from Change.
This event is free for PA Hub members and first time attendees can join us with our compliments. Non-members can buy a single ticket.
Heather Baker
International Trainer, Speaker and Author
Benefit from Change
The recent pandemic and other economic challenges have forced organisations to restructure, downsize or reassess their priorities. This can be stressful and unsettling. However, with the right attitude, knowledge and determination a proactive Assistant can grasp these opportunities and turn them into successes.
Key Benefits:
Attendees will:
understand the importance of change and the negative and positive effects
Consider means to deal with the stress
How to  adapt, develop and build relationships to come out on top
Read more
About Heather
After over 20 years working as a secretary and then a PA, Heather established Baker Thompson Associates in 2000 to enable office professionals to achieve their potential for their career development and the success of their organisation.
All her sessions are very much discussion-based to ensure relevance to attendees' specific needs. The training is informal and relaxed and is aimed at building delegates' confidence and appreciation of their value, as well as enhancing their skills. Courses are endorsed by the Institute of Administrative Management and CPD Certified, whether face-to-face or online.
Heather now travels around the world meeting PAs, EAs and administrators of all levels and from all types of companies.
She is the author of four Amazon top ten selling books and the creator of the BakerWrite speedwriting system. Heather is also an NLP Practitioner, TAP cert trainer and 3 years winner of the North West Enterprise Awards Best Administrative Staff Training Provider. She is also nominated for a National Business Women's Lifetime Achievement Award.
Heather is proud to be a Prince's Trust Business Mentor and a supporter of Isipho Admin in South Africa.
Heather is an established author with four Amazon top ten selling books and the creator of the BakerWrite speedwriting system.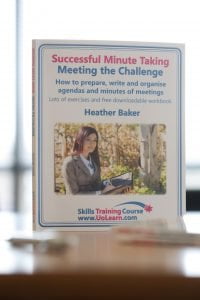 Native Manchester – Ducie Street Warehouse
Native are a leading provider of design-led aparthotels, that include fully fitted Studio, One Bed, Two Bed or Penthouse apartments along with meeting and event space.
Our latest addition to the portfolio is Native Manchester in the Ducie Street Warehouse which opened in 2019 and won the Sunday times Best Hotel North of England 2019 within weeks of opening.
Native Manchester is in a brick vaulted warehouse which is entirely furnished by Conran with a full food and beverage offering and BLOK gym, with private meeting space, private dining as well as a mini cinema!
Native Aparthotels are a totally new way to stay.  We combine the freedom and authenticity of a local apartment with the comfort and convenience of a boutique hotel.  We collaborate with incredible brands, designers and artists to create original spaces – places with soul.
And we embrace every community we're part of – curating the best of the area and connecting you with the local neighbourhood to give you an unforgettable stay.
Not a member? Why not join other assistants in our friendly inclusive community for an annual affordable annual fee?