Whoopi Goldberg, Primark and Fairy Liquid!
Member Guest Blog by Jane Paxton, Northern Gas Networks Ltd
Whoopi Goldberg, Primark and Fairy Liquid!
But more of that later!!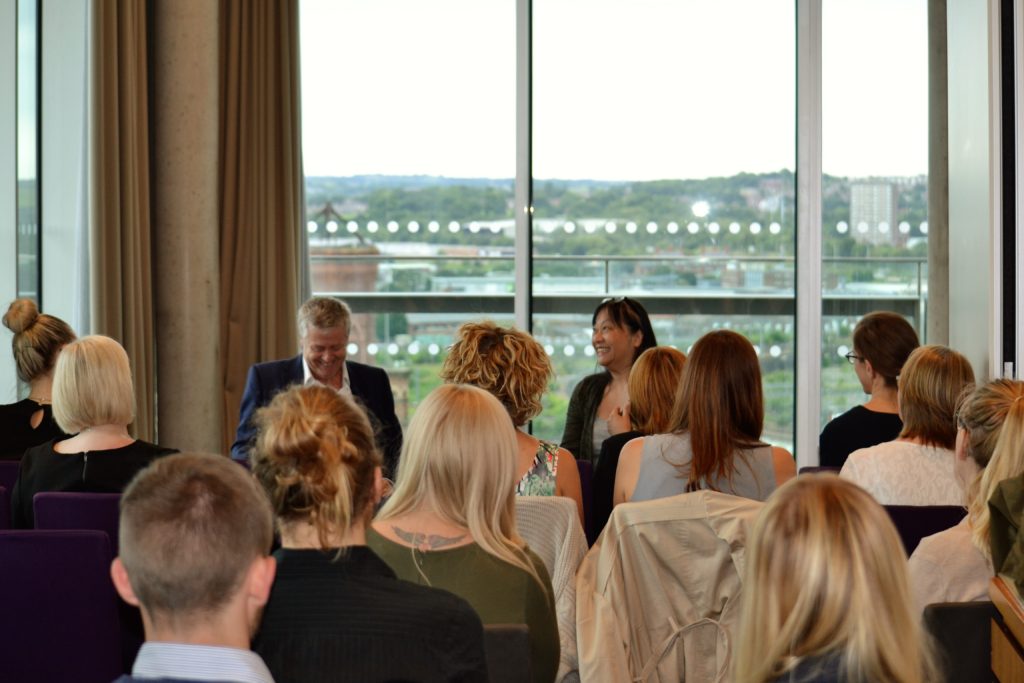 Earlier this year I approached our Academy to ask if they would support my request for Northern Gas Networks to have corporate membership of the Leeds branch of the PA Hub.  The PA Hub was launched in January 2013 with the aim of providing a constructive environment where PAs could network, expand their knowledge, develop their skills and expertise, at the same time giving them access to inspirational speakers and top trainers.
I was delighted when the Academy (and two of our directors, David and Mike), supported my request and that is how, last month, I was lucky to receive a special invitation to a one-off PA Hub event at the Leeds Doubletree by Hilton, where the guest speaker was May Pang, who for several years was Assistant to John Lennon and Yoko Ono.  [It occurs to me that some readers may need to refer to Mr Google at this point!]
Following an opportunity to network and enjoy some nibbles and the odd glass of wine, we all went through to the main event.  This took the form of an interview session, led by Jon Lowrence, a Director of the Hub.  Jon opened by asking May what many of us were wondering, how she got the job?  May told us that she was brought up in New York, the daughter of Chinese immigrants. She hated school so dropped out of college at the beginning of her second year with no qualifications.  While on the hunt for a job, she realised that she was in the same building as Apple Records.  A huge music fan, she decided that this was too good an opportunity to miss, so made her way to the 41st floor to enquire if they had any jobs.  Initially told that there was nothing, she was still standing there, completely awestruck by her surroundings, when some of the team came out on their way to lunch.  The Receptionist asked the team if there were any jobs and, right time, right place, May was asked to come back after lunch.  And that afternoon found herself an Apple employee in their Royalty department.
Working in the world she wanted to be in – music, May wanted to learn as much as she could about the business so would be in work early every day, keen to be involved and help in any way she could.  So, a year after joining the business, she found herself in the Apple Reception with John and Yoko before anyone else had arrived.  She thought it polite to ask them if they would like a drink while they were waiting, one thing led to another and some time later she became their PA.  Again, right time, right place!
As their Assistant she was involved in absolutely anything and everything, (including modelling some of Yoko's more unusual clothes designs), all the time acting as gatekeeper, dealing politely but firmly with lots of egos.
When asked about the key requirements to be a successful PA, May put it down to three main things:  determination, a willingness to learn, and, most importantly, common sense and the ability to think on your feet.  In what quickly became a 24/7 job, stamina also played an important part.
Asked about notable moments in her career, she had many, but said one of her most memorable was when John said to her, "Can you please ask Fred Astaire to come downstairs."  [Again, please refer to Mr Google.]
So what did I get out of the event?  Well, it was a great opportunity to meet up with some of the PAs from other organisations which I deal with regularly, putting faces to names; I also found out how some other businesses are using charity fund raising as an aid to team building and was able to pass this information on when I was back in the office; and I had a rare opportunity to listen to a really interesting and motivating speaker from my line of work, coming away from the event newly inspired and thinking about how else I could further support my teams and share best practices with my colleagues.
But what does this have to do with Whoopi Goldberg etc?  Well, when spending time in Leeds, May discovered the joys of shopping in Primark [move over Harvey Nicks!], and what is the gift that her best friend Whoopi Goldberg would most like from the UK?  A huge bottle of Fairy Liquid!
Jane Paxton, Assistant to David Waite, Finance Director and Mike Ashworth, Legal Director, Northern Gas Networks
10 August 2016
About Northern Gas Networks
Northern Gas Networks (NGN) owns all the gas mains in the North East, most of Yorkshire and northern Cumbria delivering gas to 2.7 million homes and businesses.
The network consists of 37,000km of gas mains, enough to stretch from Leeds to Sydney, Australia, and back.
NGN is as much about people as pipes and alongside its gas mains replacement programme, which will see 3,800km of old metal gas mains replaced with modern plastic equivalents by 2021, the company plays an important part in helping to lift customers out of fuel poverty, educating households about the dangers of Carbon Monoxide and helping to pave the way for new sustainable fuels such as biogas.
For more information please visit www.northerngasnetworks.co.uk, follow us @NGNgas or on Facebook.com/northerngasnetworks